Code BA13060220: 1916 Salesman Santa Fe Special 21 Jewels Illinois Pocket Watch

This a nice 21 Jewels, Santa Fe Illinois pocket watch made around 1916.
It is in excellent running order and keeps excellent time. It has been recently cleaned, oiled and timed.

SIZE and WEIGHT

This is a 16 size Santa Fe model. It measures around 51 mm (2 inches) in diameter (excluding pendant crown and bow). It weighs about 86 g.

CASE

The open-face salesman case is made of white metal and still in excellent condition without any dings or dents.
Both lids open and close as they should and they close tightly but may be removed by hand without the need of a special tool.
ILLINOIS WATCH CO. SPRINGFIELD engraved on both bezels.

MOVEMENT

The 16 Size movement is in excellent and clean condition.
Marked Santa Fe Special with serial number 2976077, ADJUSTED TEMPERATURE AND POSITIONS, 21 JEWELS, SAFETY PINION, DOUBLE ROLLER. This is stem wind and lever set (at four O'clock) movement and has 21 jewels.
It is running strong and keeps excellent time.

DIAL

The double-sunk white porcelain dial is in excellent condition as can be seen in the pictures.
It is marked Santa Fe Special, Illinois.

HANDS

The blue steel Breguet moon hands are original and in excellent condition.

CRYSTAL

Both glass crystals are in excellent condition without any scratches or chips.



This is a nice and rare pocket watch that has been very well preserved over the years. It is fully functional and has been professionally checked and timed.
Manufacturer:
Illinois
Manufacturer Location:
Springfield, Illinois
Movement Serial Number:
2976077
Grade:
806
Model:
8
Estimated Production Year:
1916
Run Quantity:
1,000
Total Production:
2,460
Size:
16s
Jewels:
21j
Jewel Setting:
Raised Gold Settings (Screw-Set)
Movement Configuration:
Hunting
Movement Finish:
Two-Tone
Finish Pattern:
Checkerboard
Movement Inlay Color:
Black
Movement Setting:
Lever
Plate:
3/4 Plate
Double Roller:
Yes
Barrel:
Going
Regulator:
Reed
Adjusted:
Yes
Adjusted # of Positions:
3
Adjusted to Temperature:
Yes
Railroad Grade:
No
Railroad Grade Classification:
Class G
Dial Feet Locations:
13.5, 39.0, 58.0
Case Screw Locations:
18.0, 53.0
Movement Markings:
Santa Fe Special
21 Jewels
Adjusted Temperature and Positions
Doubler Roller
Case:
Various
Registry Population:
15 (1.50%)
Database Version:
v49.597
SOLD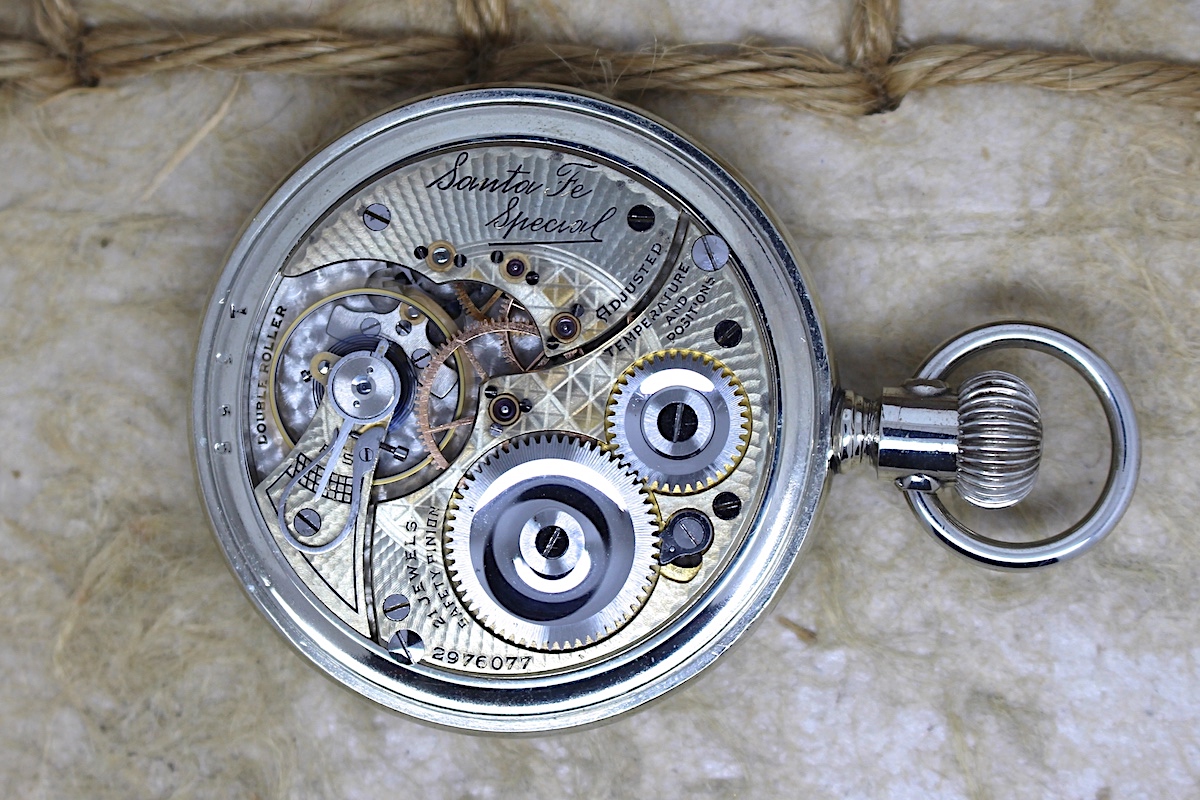 ---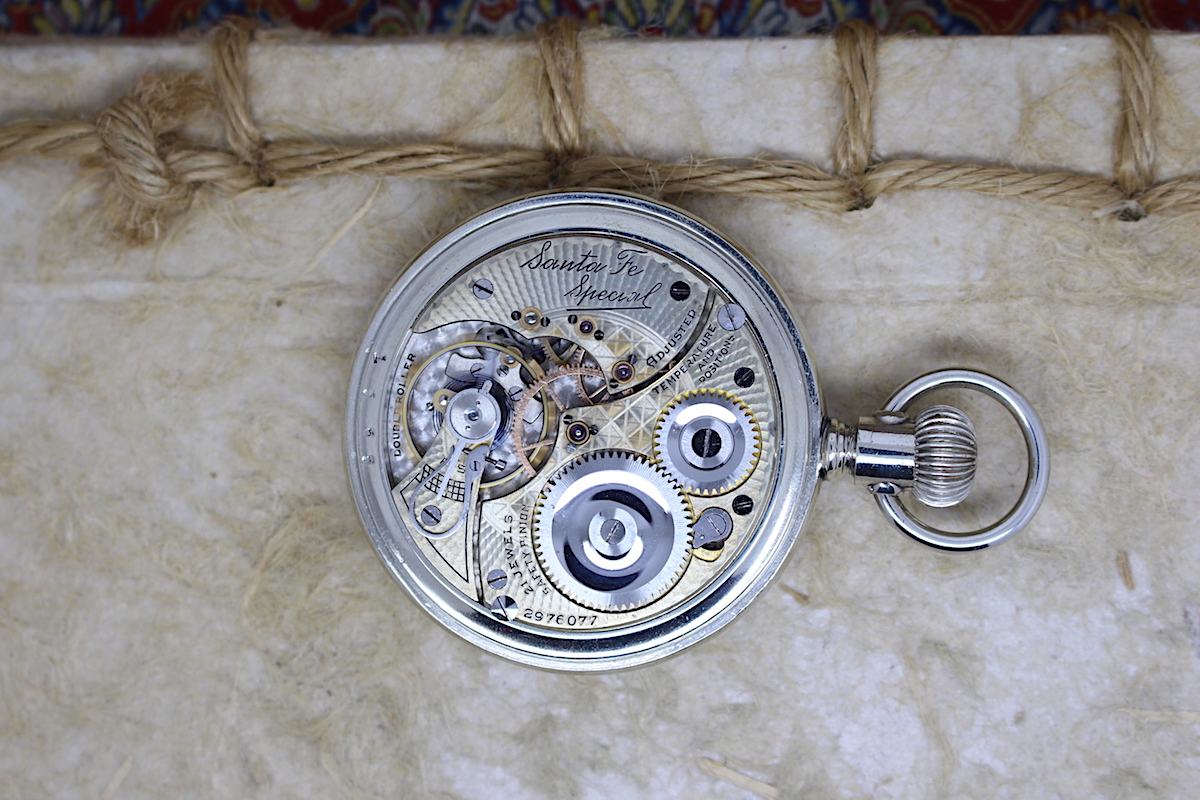 ---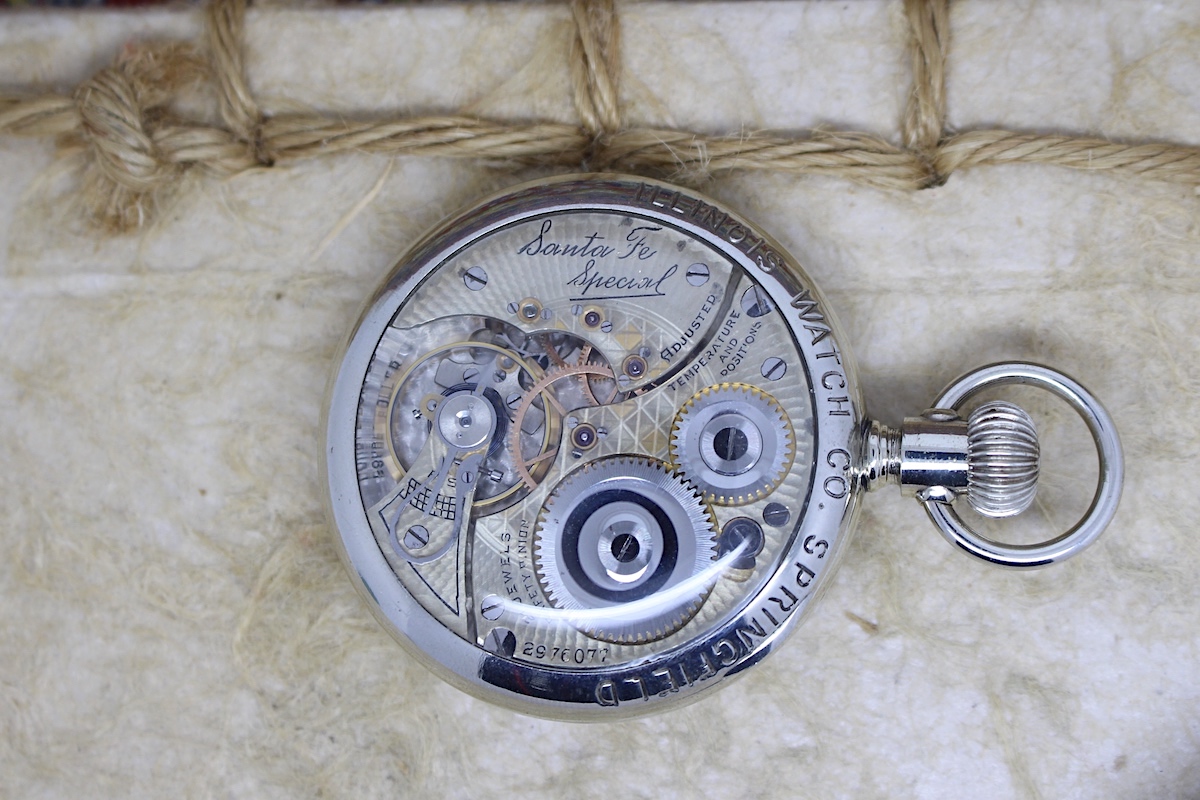 ---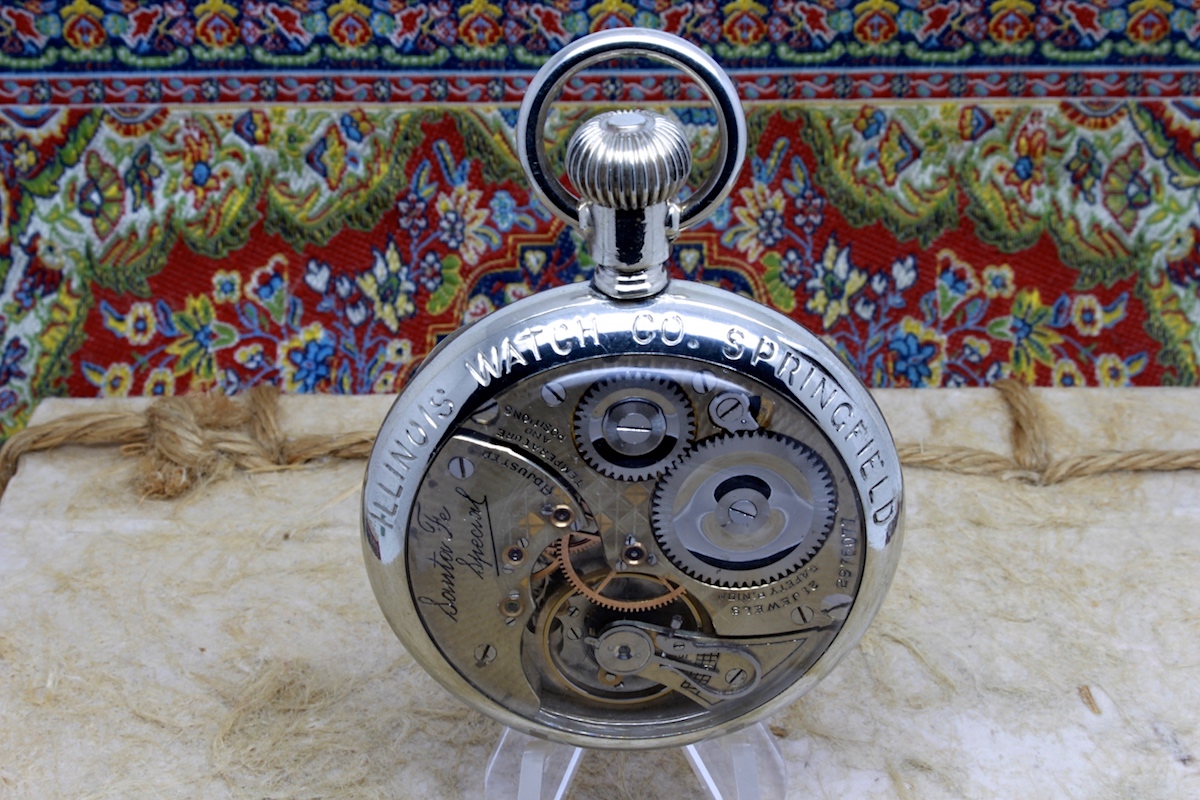 ---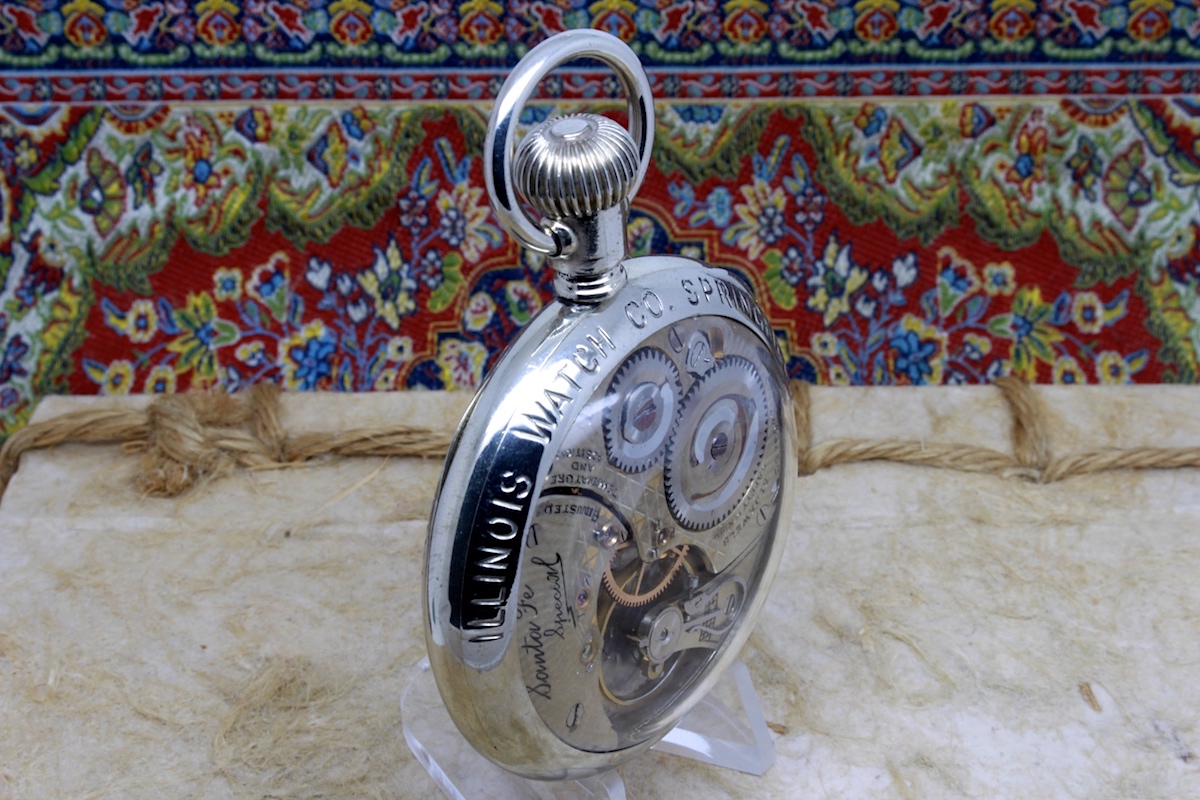 ---
---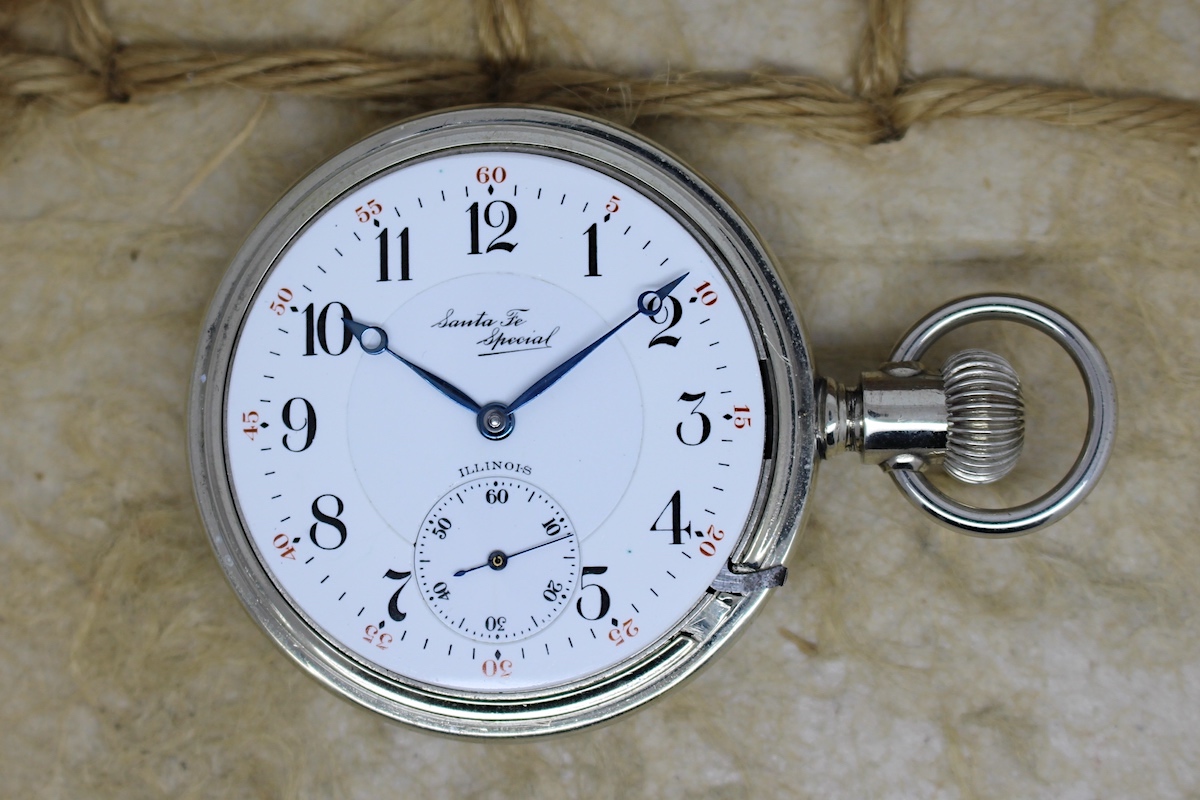 ---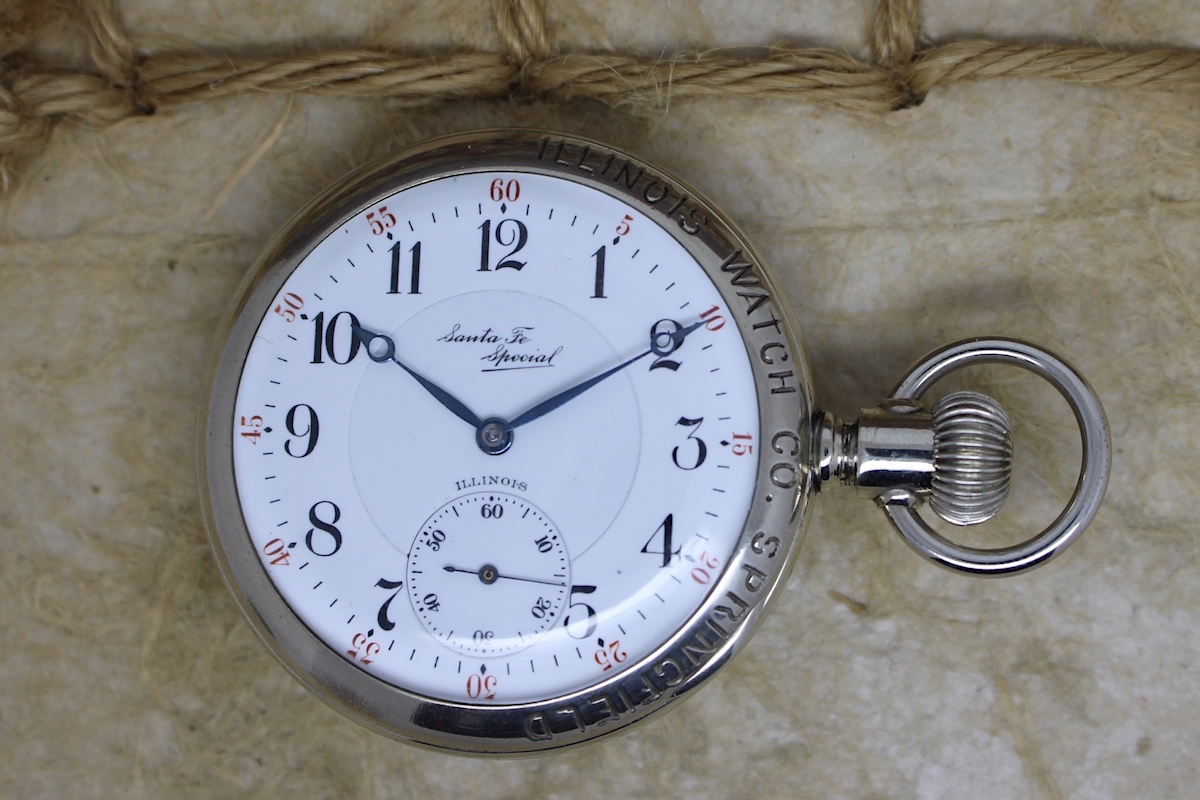 ---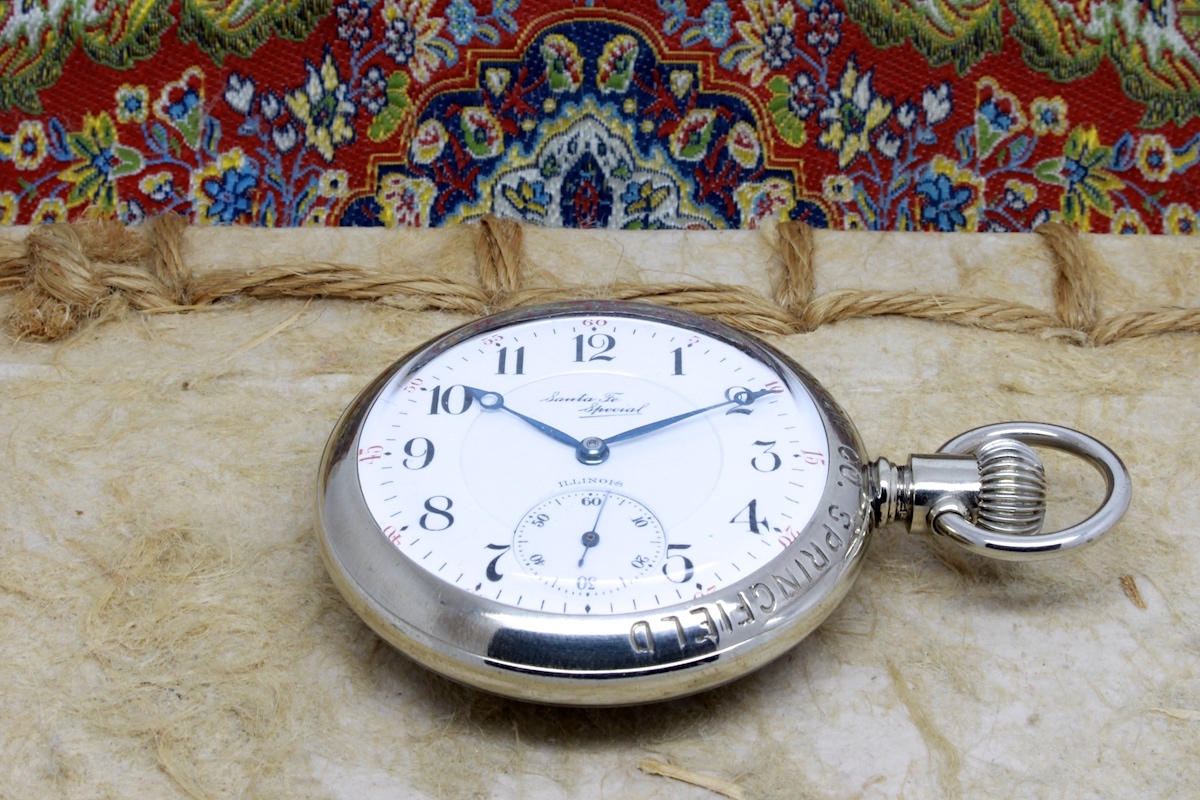 ---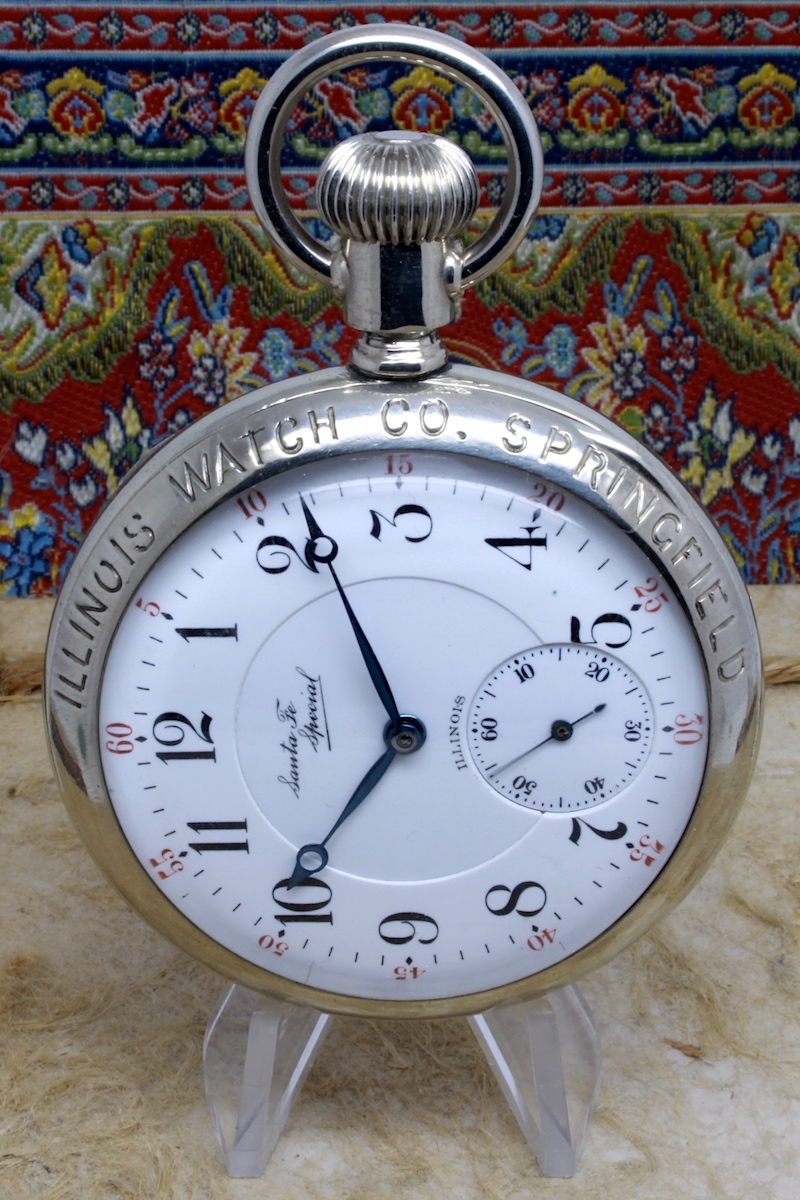 ---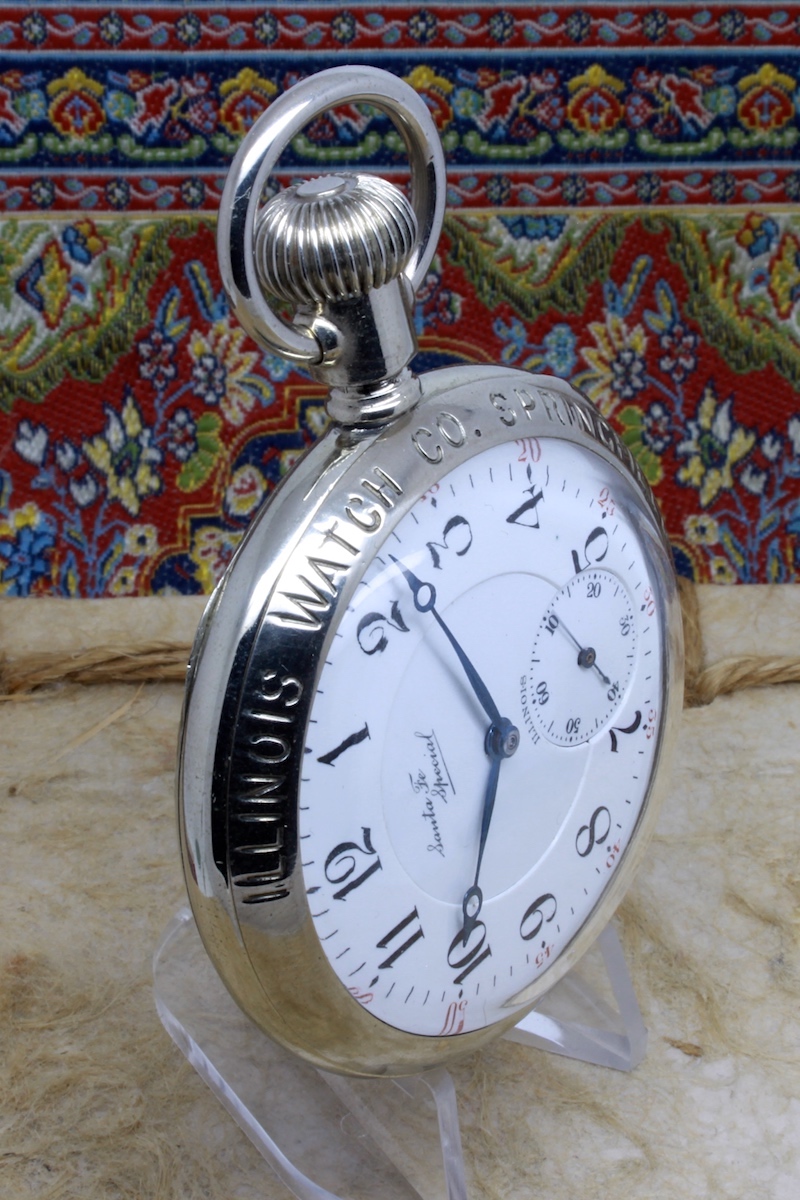 ---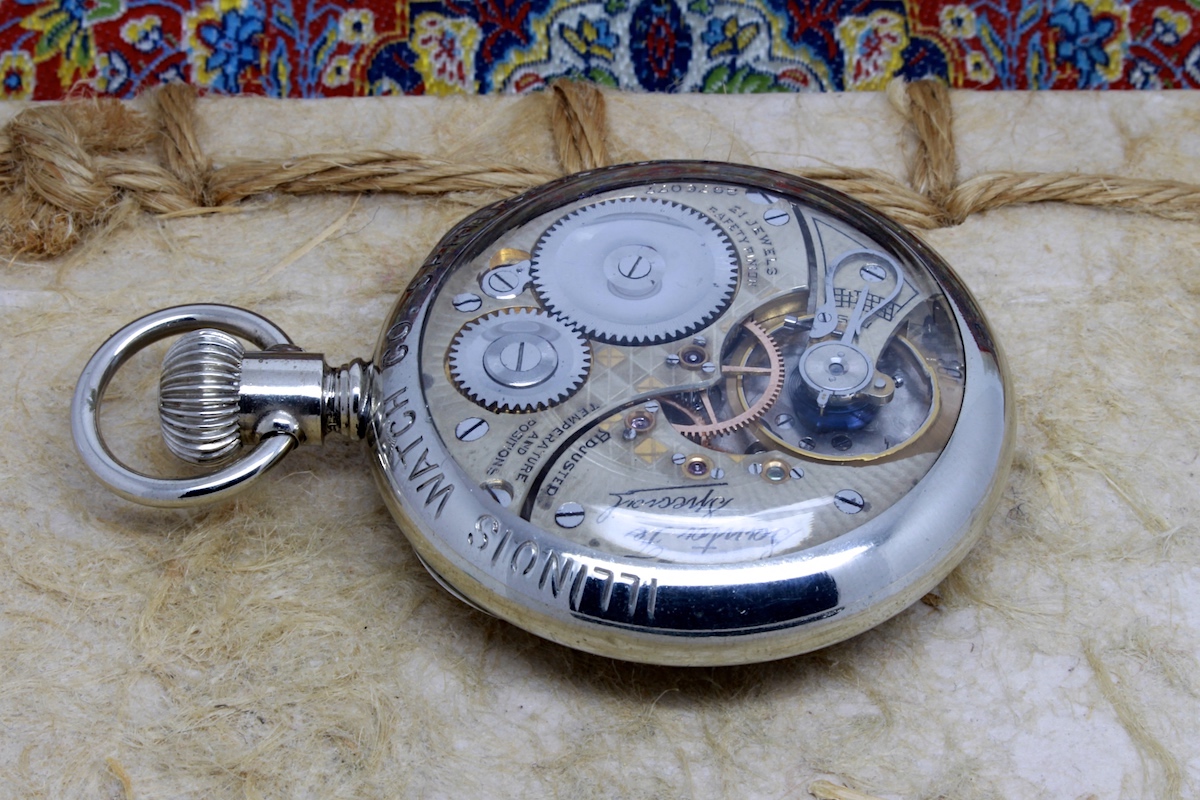 ---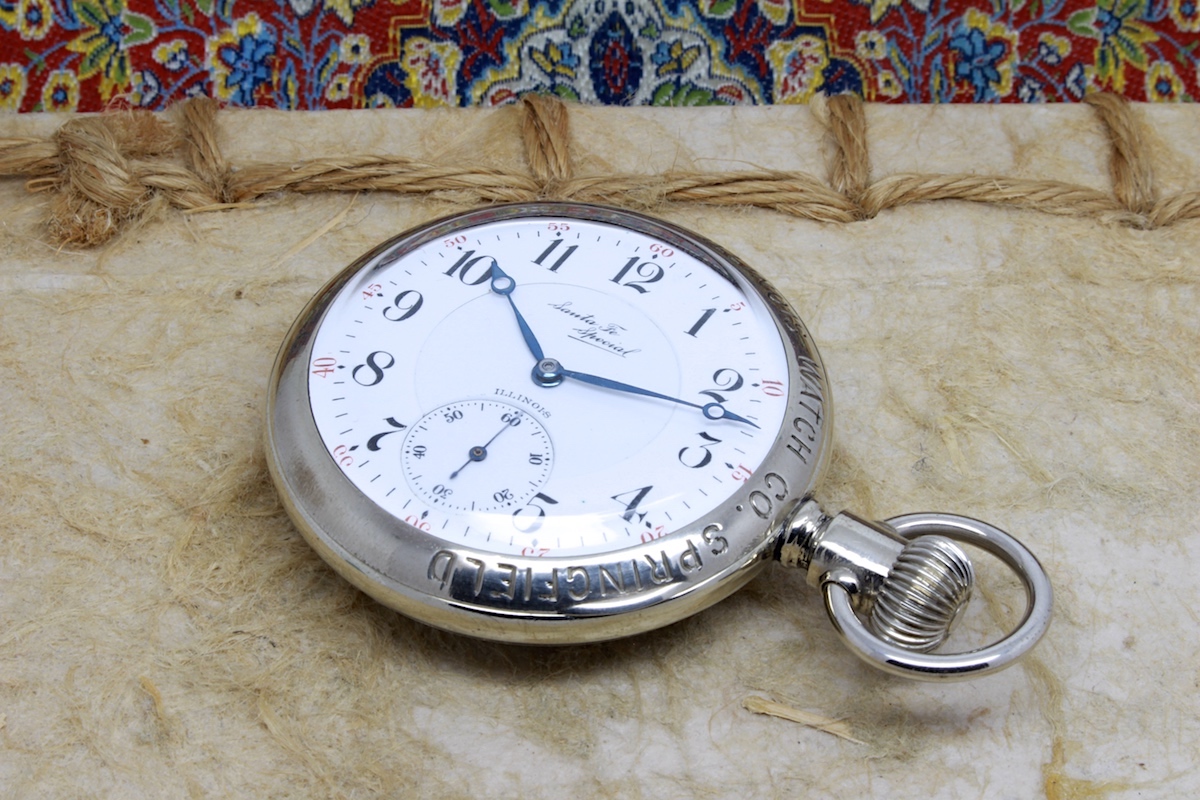 ---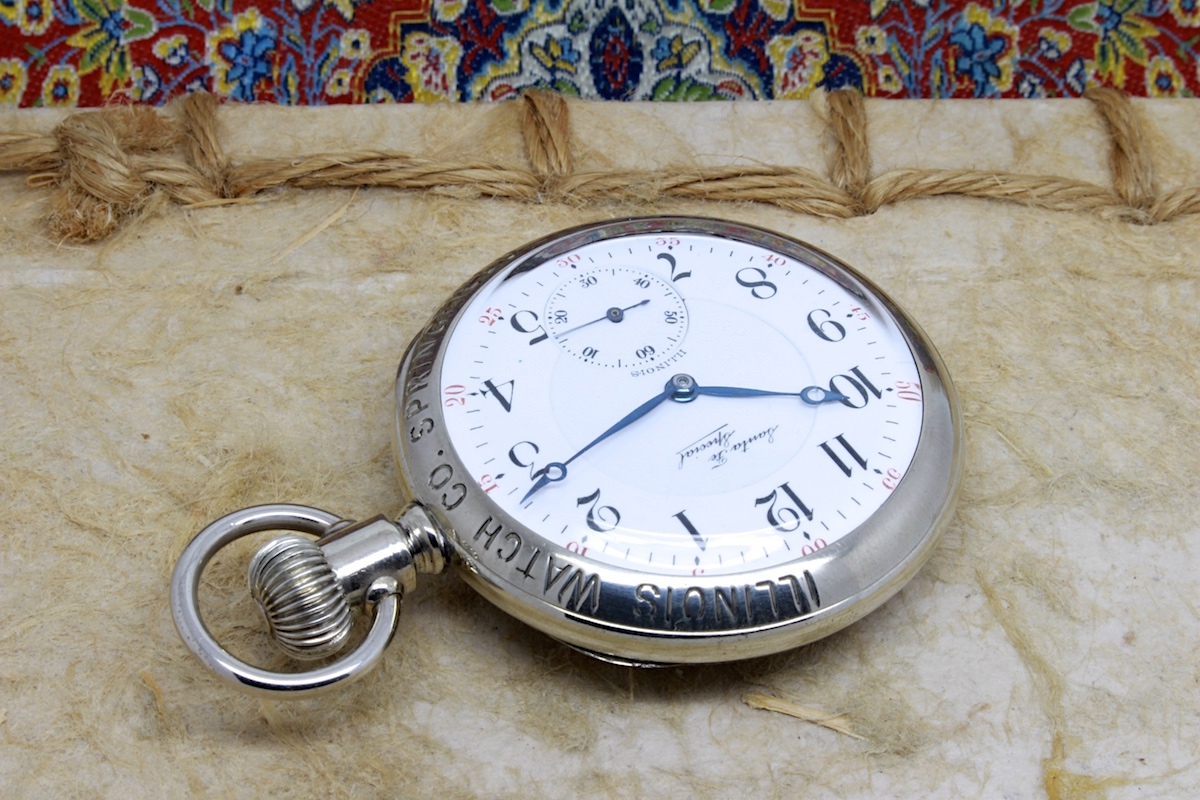 ---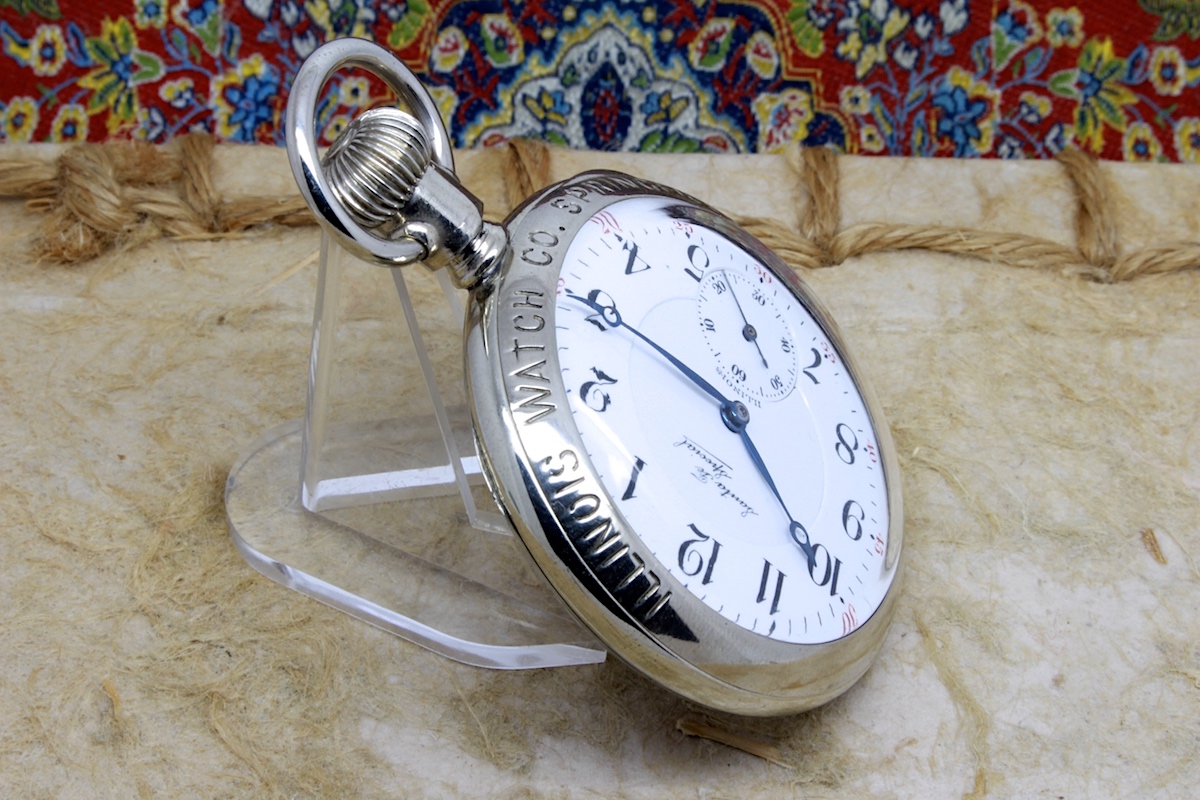 ---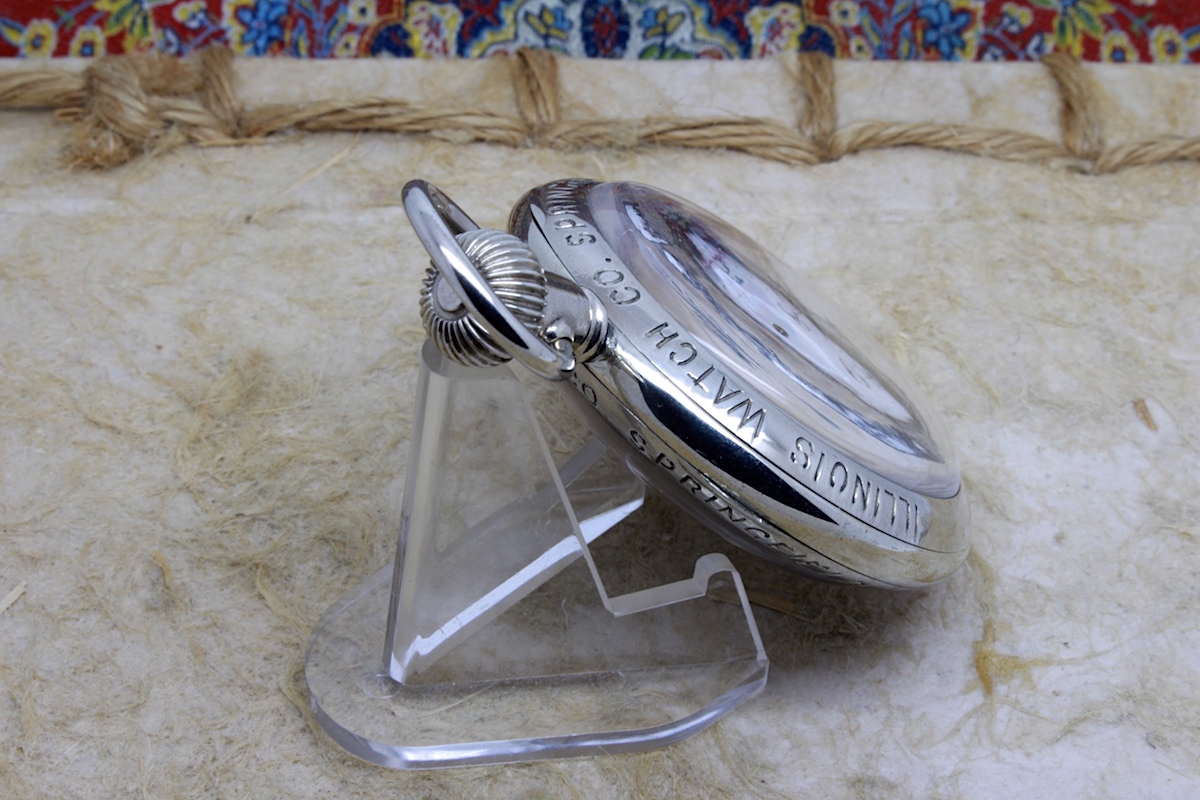 ---