Code BA130620201: Negretti and Zambra London Engraved Compass, 1917

This is a rare full hunter Military compass made by the famous Negretti & Zambra firm in London in 1917. There are only few of these compasses. This one has a particularly low serial number 971. The compass has a Dennison Nickel plated case numbered 107993 M. It is in excellent condition and has no dents with some patina inside lid. It has a strong hinge and springs open when the button is pushed. On the front the lid it is engraved Negretti & Zambra, LONDON 1917 with serial number No 971 and military arrow /|\. Most of compass makers in 1917 that used Dennison cases, also used the Dennison or Singer's patent dial. This maker made the exception. The used dial is very similar to the one used on some Barker's compasses. The compass has a quality bar needle with jewelled brass cap and points North precisely and easily. It measures 4.7 cm in diameter. This is a beautiful and rare compass that would make a nice addition to any compass collector.
SOLD
The case maker was Aaron Lufkin Dennison of Birmingham UK, he manufactured watch cases from late 1874 at 24 Villa Road, Handsworth UK. As part of the war effort he diversified into compass cases. He was originally the Managing Director of the American Waltham Watch Company in the USA, where he made the very first watch with interchangeable parts and produced watches of Railway quality. He was known as the Founding Father of the American Watch Making Industry.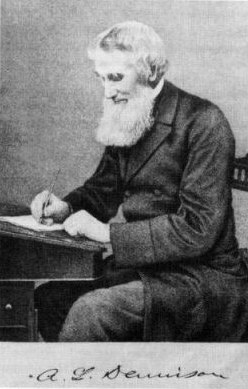 ---
---
---
---
---